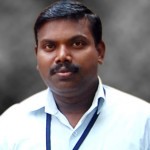 caad.hkarthiban@gmail.com
Qualification
B.C.A –  Annamalai University, Chidambaram
M.A –  Annamalai University, Chidambaram
M.L.I.S –  Annamalai University, Chidambaram
M.Phil –  Annamalai University, Chidambaram
PGDLAN –  Annamalai University, Chidambaram
M.Sc. Counselling and Psychotherapy – TNOU
Biography
H. Karthiban holds a Master of Philosophy degree and Post Graduate Diploma in Library Automation and Networking. He is a dynamic and ambitious Library & Information Science professional trained by The University of Chicago Projects with comprehensive Multi-functional experience in Libraries, Digital Libraries, Archives, Documentation, and Conservation & Preservation.
He has worked with The University of Chicago's various Projects, Research & Development and Corporate libraries. Karthiban has keen interests in the Information Management, Digital Libraries, Archives, Documentation, Conservation & Preservation and Research & Development.
H. Karthiban received distinguished "National Best Librarian Award" for his significant contribution to the Library and Information Science Profession.
Research Interest
Information Management Digital Library, Archives, Documentation, and Conservation & Preservation.

Research & Development