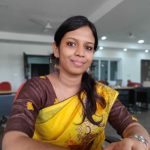 Anjana Mohan
Assistant Professor
Qualification
B.Arch – Rajalakshmi School of Architecture, Anna University , Chennai
Biography
Anjana Mohan, an architect who believes that tremendous effort always rewards. She started her career at a well reputed firm, Murali architects and handled multiple challenging residential projects. She also had her hands-on resort planning, group housing, PEB structures, interiors etc. As a design architect her job responsibilities included schematic designing & development of projects, 3d visualisations, technical drawings for construction based on R&D. Apart from that she is also well-versed in client handling, coordinating with contractors etc and also mentoring, guiding architectural trainees (2016-18). Other experiences include working on IIT master planning competition project (2016), dormitories for Lawrence School, Ooty competition project (2018), memorial for former Chief Minister of Tamil Nadu Dr.J.Jayalalitha (2017-18).
She marked her academic excellence by topping in her UG architectural thesis and is also a rank holder of Anna University. Also awarded the "Best Student in Academics" in 2014.
She also authored & presented a paper (shortlisted) at the International conference "INTERNOISE 2014" held at Melbourne, Australia, on the topic related to acoustics.
Research Interest
Urban design & Master planning
Parametric architecture
Structural aesthetics