Seminar on 'Prospects for B.Arch., Education'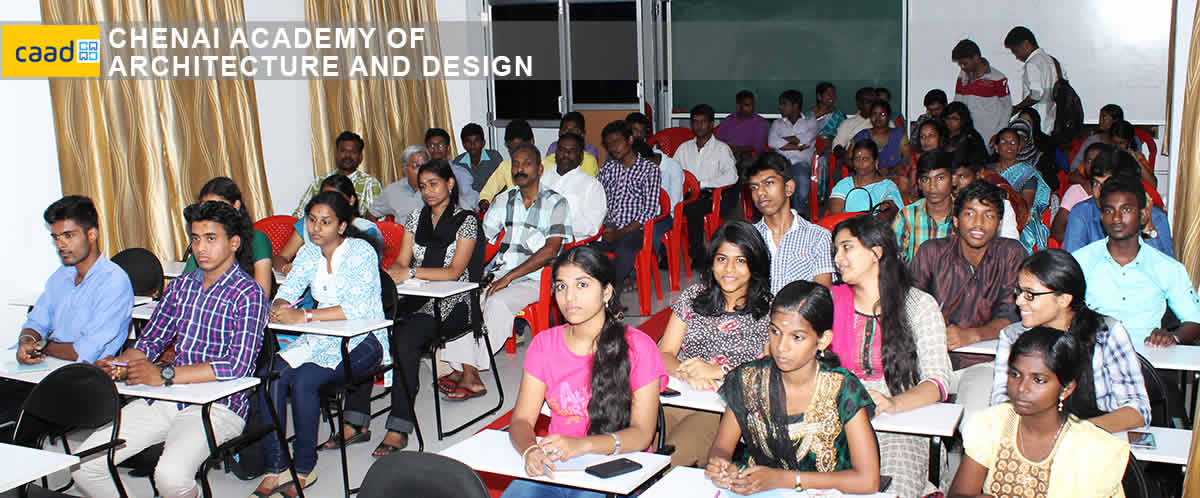 Chennai Academy of Architecture and Design (CAAD), is a stand alone Architecture Institution near Periyapalayam Amman Temple offering B.Arch degree.
A series of workshops and seminars are conducted at CAAD for experiential learning and eminent speakers and professionals in the field of architecture are invited to address the students constantly bridging the gap between the architecture education and the field expectations of the profession.
In this line of events the Chennai Academy of Architecture and Design (CAAD), a seminar on 'Prospects for B.Arch., Education' was conducted on 25th April 2015 at the Rajamannaraiah Hall at CAAD premises in the honourable presence of Prof. Dr. V. R. Rajendran, Vice Chancellor, Vinayaka Missions. A huge gathering of students aspiring to join B.Arch attended the lecture along with students and faculty members of CAAD
Prof. Vinodh Vijayakumar, Director – Chennai Academy of Architecture and Design delivered an opening address on the scope of Architecture as a profession. Prof. Vinodh highlighted that 'Architecture is an elite profession that enables an individual to start his own practice immediately after graduation and at the same time provide him with the requisite skills to be a great team player working in an establishment'.
Director shared the initiatives at CAAD that are taken in addition to fulfilling the requirements of the affiliating university. These initiative such as focussed workshops, lecture series involving experts from the industry and visits undertaken by the students both at the national and the international level will equip the students to place themselves anywhere in the world both for the profession and higher education. These initiatves at CAAD are aimed to offer Architecture education at par with global standards.
The talk came to a closure with a very interactive open mike session where Mr.Vijendranath and the Mr.Vinodh Vijayakumar addressed the questions of the gathering. Mr. H. Karthiban Co-ordinator of lecture series presented the vote of thanks and educative session concluded with lunch for all participants.