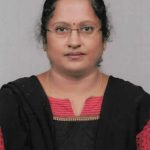 caad.krishnasudha@gmail.com
Qualification
B.Arch – SAP, Anna University, Chennai
M.Tech (Civil) –Indian Institute of Technology, Chennai
Biography
Ar. Krishnasudha holds a B.Arch from SAP Anna University, Chennai. A percentile of 97.32 in Gate '98,  helped her pursue her Master's in Civil Engineering  in IITM, Chennai. Her M.Tech thesis was chosen to be presented in a seminar on 'MRTS development in Chennai' organised by the Civil Engineering department of Anna University, attended by the entire team of architects, planners and transportation engineers involved in the development of the MRTS nodes and corridors. After passing out in 2000, she worked on a Government consultancy project in the Structural Engineering Department of IIT, where she developed a prototype lighthouse design for the Guided Vehicle Navigation system along the coastal naval corridors of the Gujarat coast. This design was later developed for 17 lighthouses at different locations along the Gujarat coast.
During her Internship with Edgar Demello Architects Bangalore, she participated in two design competitions as part of a team, one of which was a winning design that was executed. Her architectural practice with firms like JDS Architects over the span of more than a decade gave her vast exposure to a variety of residential, commercial, educational and institutional projects. She has also been involved in independent architectural practice specialising in residences and interiors. She was also involved as part of INTACH activities in documenting the Senate house, Chennai and is interested in the sustainable and cultural qualities of traditional architecture.
On the Academic front, she has worked in leading educational institutions to help students gain confidence, improve communication abilities, develop language skills and to equip them technically so that the transition from the college studio to office become a smoother experience for the students. She has had the opportunity to travel to many countries of the world and believes that visiting architectural wonders will help her in her academic endeavours.
Research Interest
Sustainable of Architecture