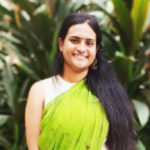 Keerthana Muralidharan
Assistant Professor
Qualification
B.Arch –MARG Institute of Design and Architecture Swarnabhoomi (MIDAS), Anna University
M.Arch (Architectural Conservation) – School of Planning and Architecture (SPA), New Delhi
Biography
Keerthana Muralidharan, Conservation Architect graduated from School of Planning and Architecture, New Delhi. She is currently experimenting and creating models for Integrated Conservation Management Plan for the temples of Tamil nadu through her venture "Conservation Mainstream".   She is very passionate about teaching students about the Traditional Knowledge System and the application of knowledge into practice.
Her academic thesis was on "The sacred sites of Tamil Jainas", in the Pudukkottai region.
She has worked with renowned Conservation Architects like Gurmeet S.Rai ( CRCI Pvt.Ltd, Delhi), Abha Narain Lambah (ANL Associates, Mumbai) for HRIDAY project at Kanchipuram and as Research Assistant at Centre for Cultural Knowledge System (CCKS, SPA Bhopal) under Conservation Architect and Professor Vishaka Kawathekar. She has done her internship at the Archaeological Survey of India Chennai circle and was in charge of preparation of Conservation Plans for Important temples of Tamil nadu.
Research Interest
Temple Architecture and traditional knowledge System
Evolution theories to understand the present mechanism of culture and Humanities